JUMOKUI (Arborist)
Scope of work of JUMOKUI(Arborist)* is to diagnosis, recover, protect and cultivate trees.
They diagnose trees, while catching any signals from them which cannot speak.
Our JUMOKUI(Arborists) guide how to handle all the works regarding gardens.
*A JUMOKUI(Arborist) is required to pass a "Japan Greenery Research and Development Center" examination, be qualified and registered as one.
Akihiro Tsukamoto (SATSUKI ZOEN representative) has qualification of JUMOKUI (Arborist).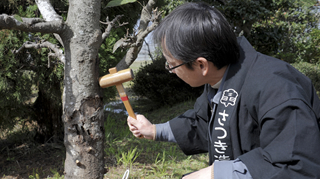 BUSINESS OUTLINE
WORKS
The part of our work. *When a picture is clicked, it expands.
KUROMATSU (Japanese black pine)
Cultivation of garden plants has started somewhere between the Meiji and the Edo Period in Gokenya, Tondabayashi-shi, Osaka area.
In the Showa Period, Skiffing technology has spread over Gokenya area, and we have got to ship KUROMATSU (Japanese black pines) to all over the country as goods.
Since then, KUROMATSU (Japanese black pines) in Gokenya have been said to be one of the best in Japan in reality and in name.
COMPANY PLOFILE
Our company was founded in 1924. We treat gardens through our traditions and skillful techniques.
Our JUMOKUI (Arborists) manage trees, depending on characteristics of each tree.
We recognize the importance of regional and global environment protection deeply, and create residential environment with abundant green.
Company name
SATSUKI ZOEN, INC.
Head Office

2-12-12, Gokenya, Tondabayashi-shi, Osaka, 584-0079, Japan
TEL +81-72-365-1218 FAX +81-72-365-3339
E-mail:info@satsukizoen.jp

Founded
1924
Representative
Akihiro Tsukamoto
Description of business
Landscape gardening business
Production of a plant and sale
Diagnosis and treatment of a tree
Greenery business
Qualification
JUMOKUI (Arborist)
First-Class landscape gardening work operation and management engineer
Second-Class landscape gardening work operation and management engineer
First-Class landscape gardening technicians
Second-Class landscape gardening technicians
Green adviser
Second-Class exterior planner
CONTACT
Please feel free to contact us if you have any question and requests.
*A message enters gmail in Trash, so please be careful.